Damping systems and components for railway vehicles
Metalocaucho (Suzhou) Metal Rubber Products Co., Ltd. is a Spanish-owned enterprise, specializing in the design, production and sales of rubber and metal products. The products are basically shock-absorbing flexible parts, including rubber and metal elastic joints, which are used in locomotives. Rubber metal spring parts, rubber metal bearings, etc.
MTC's dedication to suspension systems for rail vehicles allows us to develop innovative suspension systems and solutions by providing superior products and services to our customers.
Our suspension solutions keep your ride soft and comfortable.
· Safe ride
· Enhanced comfort and reduced vibration

· Reduced environmental impact and noise

· Optimum dynamic stability

MTC can conduct a comprehensive calculation and evaluation of the bogie suspension system, and provide support for users, vehicle builders and operators with the best suspension solutions.
Primary suspension system

The primary suspension system provides longitudinal and lateral guidance for the axles while creating vertical damping in conjunction with the bogie frame. In addition, it ensures that the load is evenly distributed on the wheels, which is essential for ensuring braking and traction performance and avoiding the risk of derailment.

The stiffnesses Kx and Ky are critical to the dynamic stability of the vehicle and to wheel-rail wear in corners. There are different solutions for primary suspension systems, depending on space availability, weight requirements and budget.
Herringbone spring
The herringbone spring has a wide range of stiffness combinations and is easy to assemble. Project Example: Bombardier Flexx Metro 1000 - Siemens AVANTO - CRC Low Floor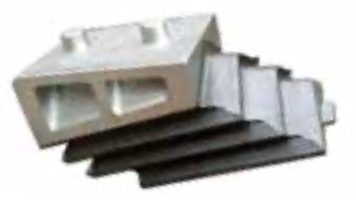 Conical spring
This solution consists of two conical rubber springs that provide flexibility in the vertical, longitudinal and transverse directions. With an annual output of over 50,000 pieces, MTC's conical springs are currently being used in hundreds of projects around the world. Project example: CAF Civia – Hitachi GAT – Alstom Coradia LINT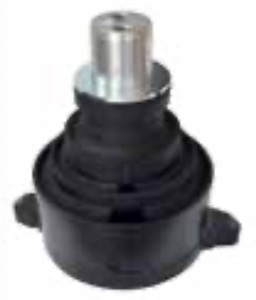 Guide joint

MTC is the leader in this suspension solution, and our design achieves the fullest combination of Kx and Ky values (KX is much higher than ky, ky is much higher than Kx, and KX is equal to Ky). Project Example: Siemens Velaro&ICX - Bombardier MOVIA - CAF Civity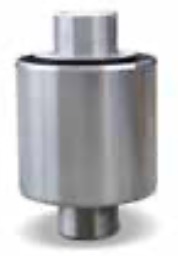 Guide link
MTC's guide links have a special design that guarantees very low torsional stiffness without increasing the overall vertical stiffness of systems using coil springs.

Project Example: Hyundai Rotem Turkish Locomotive - Vossloh Euro4000 - CAF Regional Expressway (AVR)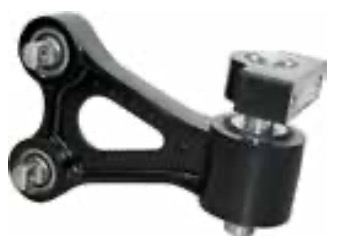 Guide primary spring
It works on the same principle as the guide joint, in addition, this solution shares the vertical load with the coil spring and includes an internal safety rigid stop. MTC has been Bombardier's partner since 2000 in developing this special solution. Project Example: Bombardier Régio 2N/ PHD – Talent – Innova – Dosto2010
Hydraulic joint
The scheme was patented together with CAF in 1999. It is an active suspension system with integrated hydraulic damping combined with elastomer springs. Its main advantage is its active suspension technology, which makes the speed of the train significantly in turns. improve. The dynamic performance of the entire bogie is improved by the application of a variable damping system, which is suitable for changing operating parameters and frequencies (by adjusting the pore size or fluid viscosity) during vehicle operation. For some national operators, this has the advantage of reducing rail access costs.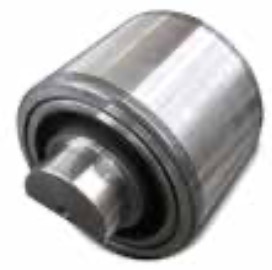 Other primary suspension system
Pneumatic bogie suspension
Project Example: Alstom Pneumatic Bogie - Bombardier Rubber-Tyred Metro – CAF NS-2012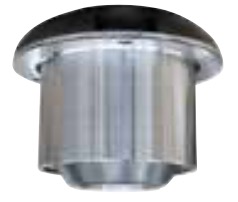 Guide primary spring for high-speed rail
Project Example: Alstom TGV
Secondary suspension system
The secondary suspension system connects the bogie and the car body together to ensure the stability of the vehicle in corners and when starting and braking. It must ensure a high degree of flexibility in all directions.
Air spring system
The system consists of airbags and emergency springs, which are mainly used to increase ride comfort and reduce noise from bogies and body parts. It achieves low frequency undulations and allows high deflection, horizontal and torsional deformations over a wide load range. It maintains the same height of the body under different loads.
Project Example: CAF Area - CAF Urbos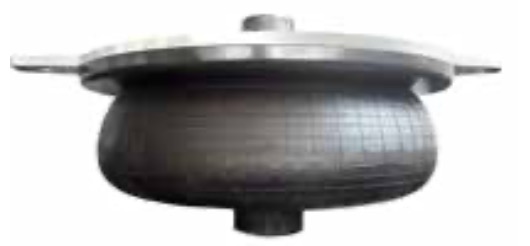 Anti lateral torsion boom joint
MTC can provide a wide range of ARB joints, they are suitable for high torsion angle conditions. Project Example: Bombardier SBB Double Decker Twindex Swiss Express - Bombardier OMNEO - CAF Metro

Bumpers
MTC has developed a variety of longitudinal bumpers, lateral bumpers and bumpers, some of which have added special materials to reduce friction.
Joint
This product is used in various joints on bogies. Such products from MTC are available in a wide range of diameters and other sizes. Project Example: Talgo S/102 – CAF Metro – Hyundai Rotem Metro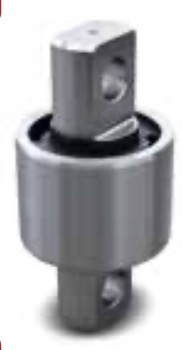 Emergency spring
Emergency springs are installed and used either as part of an air spring system or as a separate suspension component. MTC has designed emergency springs for both purposes, with layer springs in conical and cylindrical shapes, or a mix of the two. Project examples: Alstom Coradia Lirex, Continental and Nordic – Alstom Coradia Juniper X3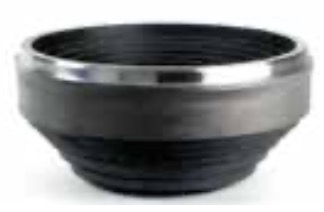 Layer spring
The layer spring can reduce the vibration and noise of the coil spring. Project Example: Siemens Desiro6500 - Bombardier MOVIA - Alstom Coradia Meridian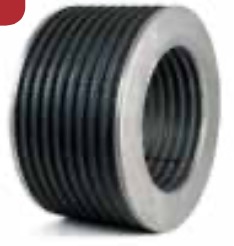 Articulated Link/Boom
We have developed connecting rods with up to 4 joints, with comprehensive FEA calculations to optimize stress and weight. – Alstom Loco KZ8A, KZ4A
Project Example: Hyundai Rotem Locomotive - Vossloh Euro4000 - Alstom Loco KZ8A, KZ4A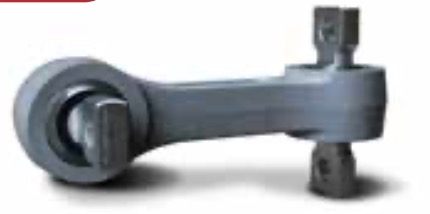 Center pin set
This piece is part of the bogie traction center system connected to the car body. Project example: Alstom Metropolis - Hyundai Rotem Locomotive - CAF Oaris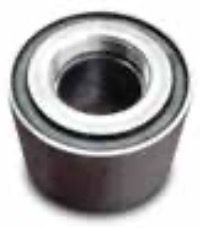 Inclined Layer Springs - MAK Springs
This solution is mainly used in locomotives to reduce lateral stiffness while maintaining ideal longitudinal stiffness. Project example: Alstom Locoprima - Siemens Vectron/Eurosprinter - Vossloh locomotive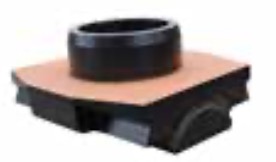 Traction rubber block
This solution is mainly used in subways; it is a component of the bogie traction center that absorbs longitudinal traction and ensures low vertical and lateral stiffness requirements. Coradia Polyvalent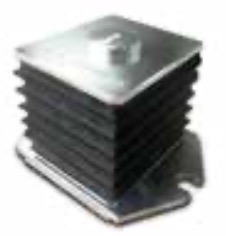 Other secondary suspension
Eligo spring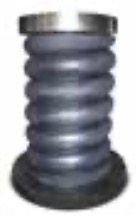 Bolster rubber spring
This solution is used on Alstom Nantes trams, mainly as a secondary suspension.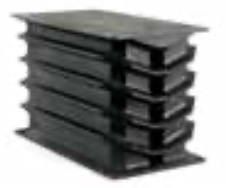 Subsystem
MTC is able to calculate and build complete suspension branch systems that not only provide our customers with a comprehensive solution, but also bring them significant cost advantages in terms of logistics and production.
Anti-twist boom system

Primary spring system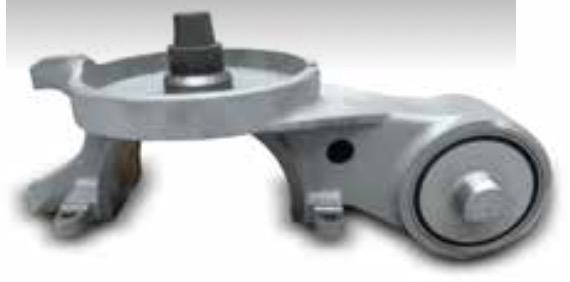 Traction Center Subsystem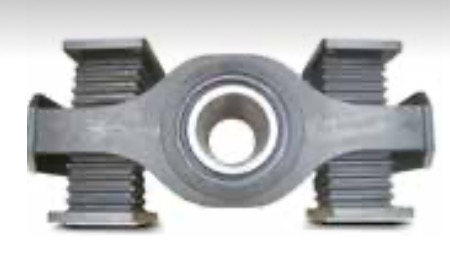 Motor and Transmission Suspension and Connections
We design and manufacture different types of rubber metal parts, mainly used to reduce vibration, provide support, and as a connection between the electric motor and the bogie:
Link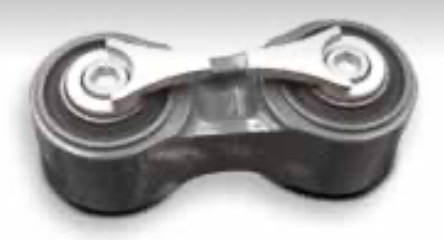 Elastic joint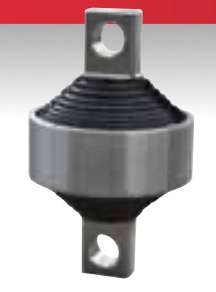 Rubber support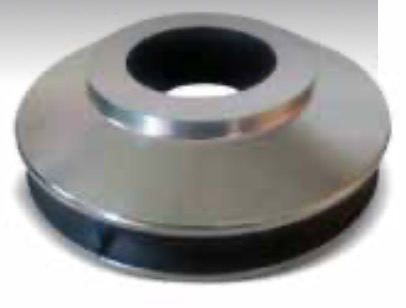 Connectors and damper elements
MTC has a wide variety of rubber metal parts for rolling stock connections and cushioning components.
Vehicle joint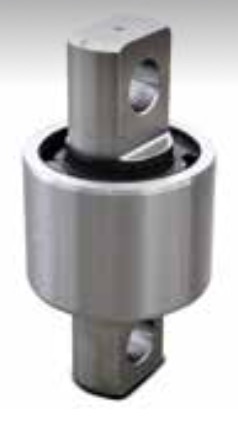 Shock absorber element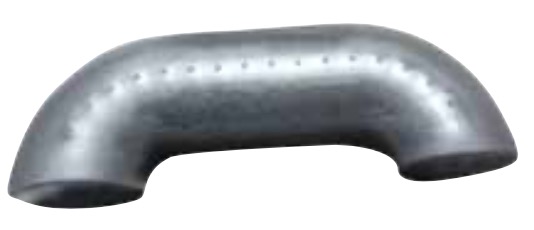 Others
We can develop other customized solutions according to customer needs.
Elastic wheels
Suspended floor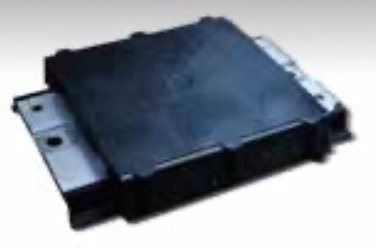 Natural rubber and elastic materials
The main problem faced when selecting elastic materials is the neglect of environmental conditions, vibration frequency, vibration amplitude and lifetime in pursuit of small stiffness changes.
To meet the different requirements of each project, MTC develops natural rubber compositions—often blended with synthetic compounds.
We have special formulations to meet the following requirements:
· Extreme ambient and temperature conditions, from -50oC to +60oC
· Extended fatigue life

· Limited creep

· UV and ozone protection

The above properties have been tested in excellent laboratories and have been tested by our customers in practice.
MTC has developed a suspension solution that complies with the EU EN45545 pyrotechnic emission standard (patented).
Metal parts
The strategic location of the Basque Country is a region with a high concentration of heavy industry and a large number of specialized metal processing and manufacturing plants, which guarantees our metal parts price competitiveness and convenient supply channels. We work with many suppliers who specialize in machining, casting, forging, oxyfuel cutting and various other metalworking products. If necessary, we are also able to offer lightweight products using aluminium. Strategically located production bases enable us to improve our global supply chain system, optimize cost control and improve procurement efficiency. Our engineers select material categories and their mechanical and chemical properties to meet the user's requirements, while also complying with the rules and quality standards of the country of final destination of the project.
Our engineering department uses different extrapolation models for finite element analysis.
One of the models was developed in-house, using Matlab software tools. The unique feature of this method is that it can combine theoretical numerical values (eg Wohler curves, theoretical damage calculations) with our long-term accumulated empirical data to provide very fast and highly reliable results for design verification.
This method can quickly determine the project plan, which is especially important when the project cycle is very tight.
A typical project development starts with a client request: from a simple idea or concept to a full technical description. Then there is the technical exchange, with the aim of identifying a design that will meet the project's needs. After the design plan is approved, the sample production will be carried out. Once the sample has passed internal validation and customer acceptance (either by review or first article testing), serial production can begin.
MTC has its own testing equipment, which can perform fatigue testing and creep testing by itself, and can check the mechanical properties of products in the range of -50oC to 80oC.
If you have any questions about this product, please leave a message for consultation. Our customer service staff will reply to you within 24 hours