Westinghouse friction brake shoes
Westinghouse Huaxia Technology Co., Ltd. is affiliated to Westinghouse Brake Friction Group, which is a leader in friction products in the global railway industry. Its subsidiaries include:
Becorit (Germany) -- InTrans (India)
CoFren (Italy) -- FIP (Australia)

RFPC (United States) -- FIPSA (South Africa)

Huaxia (China) -- Adantech (South America)

Products and Services

Westinghouse Friction Group has 13 1:1 test benches around the world;
Powder metallurgy brake shoes and pads for 200km-350km/h trains;

Metro synthetic brake shoes and pads;

High-grinding and low-grinding brake shoes for locomotives and wagons;

Pantograph carbon skateboards for locomotives, subways and EMUs;

Qualification/other certification;
Passed AAR, UIC certification and CRCC certification.
Westinghouse Huaxia has been a market leader in the design and manufacture of railway friction products in China.
Company Location: China - No. 42, Tianshan International Venture Park, East Yanjiao, Beijing
Our quality policy: to provide users with products of the highest quality standards, so that users are 100% satisfied
Company Qualification/Other Certification: Passed ISO9001/ISO14001/ISO18001 system certification, EMU and locomotive related brake pads, brake shoes, pantograph carbon skateboards and other products have obtained CRCC certification
Westinghouse friction products are widely used in urban rail transit vehicles such as light rail, subway and intercity trains in the world and China. Main brake shoe materials and applications (only the main products in the Chinese market are listed):
320G
It is a synthetic brake shoe developed by Westinghouse Huaxia and suitable for Chinese subway vehicles.
Currently used in Beijing, Tianjin, Shenyang subways.
It has the significant advantages of stable friction coefficient and long life (about 60%-100% longer life in comparison test than competitors).
It is a high friction brake shoe for subway developed by Westinghouse Group. It is currently mainly used in Shanghai, Nanjing and Harbin subways. Its friction coefficient is stable, and it has low noise during braking, low wear on wheels, and long service life (more than twice that of competitors).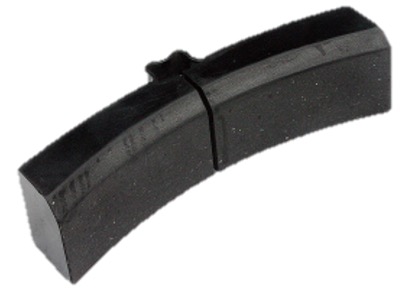 W724(TG,Treadguard brake shoe)
TG brake shoe is a unique patented design of Westinghouse Friction Group, in which the middle cast iron block has the function of tread repair. The cost of spinning wheels can be significantly reduced and the life of the wheels can be extended.
If you have any questions about this product, please leave a message for consultation. Our customer service staff will reply to you within 24 hours