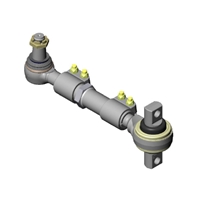 HEYD ball joints
HYDE has nearly 80 years of experience in manufacturing bogie metal ball joints. Hyde ball joints are maintenance-free and have a normal life span of up to 10 years. HEYD connecting rods can be classified into double-end fixed, single-end adjustable and double-end adjustable according to their adjustability, which can meet the different assembly requirements of customers. HEYD ball joints are mainly divided into double ear joints, taper pin joints, axial joints and through-hole joints, which can meet the different connection designs of vehicle anti-rolling parts.
Compared with similar products, our products have obvious advantages:
●Made of high-strength materials, precise internal coordination, superior durability and longevity
●Salt spray resistance test conforms to ISO 9227 standard, up to 1000h
●Specially researched high-performance high and low temperature resistant grease, withstanding temperature range -40℃ to +80℃
●Maintenance-free during the whole life cycle, no need to change (add) grease or replace parts
Our company's current main products are HEYD railway special (anti-roll torsion bar) connecting rod and its ball joint. Supply more than 8,000 connecting rods and 15,000 ball joints to domestic customers every year.
Wide range of applications: high-speed rail, intercity trains, subways, light rails, locomotives

Number

Name

Drawing Number

Part Number

Main User

1

Taper pin joints

731472-01

8-120-050-072

Zhuzhou Gofront Equipment Drive

2

Binaural joints

732241-01

8-630-066-040

3

Connecting rods

731022-00

8-540-050-025

4

Connecting rods

730379-00

8-540-050-006

5

Taper pin joints

729925-01

8-120-050-058

Zhuzhou Times New Material

6

Binaural joints

732478-02

8-632-053-023

7

Connecting rods

731321-00

8-832-053-005

Nanjing Puzhen
If you have any questions about this product, please leave a message for consultation. Our customer service staff will reply to you within 24 hours